:: Become a Sponsor

DogsOnly is a 501(c)(3) Non-Profit Organization and the dogs we rescue and re-home need your support. Every member of DogsOnly is a volunteer, so you can be assured that 100% of your donation goes to the welfare and support of the dogs we rescue.


Overpopulation -
The Problems
Click here to read the Humain Society's comments on this issue..

National Council
on Pet Population Study and Policy


Spay Day USA

:: Hot Links


:: Other ways you can help


Ready To Rescue.
You're in your car, heading somewhere or other, a long list of things to accomplish and already running late. Suddenly, you see him—a dog, there, by the side of the road. With a sinking feeling, you realize he's alone. Your car is coming alongside him now. You have only seconds in which to act. But what should you do?

read more
Coming soon to this link

Sponsor A Spay Or Neuter

• Sponsoring is easy and we desperately need your help to continue this work.

DogsOnly spays and neuters all animals in our care when they reach the appropriate age. The cost for this and the accompanying medical treatment (innoculations, exams, etc.) is high, and we do not fully recover costs at adoption time.
The "Sponsor a Spay" program is designed to help us with these costs, freeing more funds for food, litter, and other necessities.
You can "Sponsor a Spay/Neuter" for a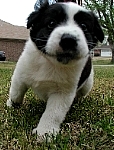 contribution of $45. We will send you a picture of the animal who received your gift, as well as his or her rescue story and current adoption status.
Your contribution can be given in your name, in memory of a loved one, or as a gift. Just let us know.

Specific instruction on how you can donate and details of the varous donation options will be posted to this section in the very near future when the appliccation for 501(c)(3) is complete.

Thank you for "Helping us to help them".




Spay & Neuter Facts & Ficton
---
• Fiction
Having a litter will help her grow up
• Fact
Raising a litter of puppies will not change
her personality. She may not even be a
good mother, or she may need emergency
medical attention, such as a Caesarean
section. In fact, spayed dogs usually make
better pets.
---
• Fiction
It will change his temperament
• Fact
Neutering the male dog at an early age
will help him be less aggressive regarding
his "territory". He will also not be tempted
to follow the scent of any female in heat in
your neighborhood. Early neutering will
also help in house-breaking and training
by decreasing the incidence of urine
marking for territorial reasons. An added
benefit is a decrease in the chance of
prostatic cancer. But it won't turn your
dog into a "wimp", and he'll never know
what's missing!
---
• Fiction
It will make my dog lazy and fat.
• Fact
Overeating and lack of exercise make a dog fat, not missing hormones.

Paws For Thought
Estimates of the actual numbers of dogs that are killed in shelters every year vary greatly, but the Humane Society reports that only 2.2 to 15% of dogs brought to shelters are placed in
homes. The rest are killed, or worse, turned over to dealers or laboratories. On average, 25% of animals killed in shelters are purebred. In some regions, 50% are purebred. The most popular breeds are often found in shelters in the greatest numbers.
• Companion Animal Overpopulation:
The Sad Statistics
One female dog and her offspring can produce 67,000 dogs in 6 years.1
"No homes for littermates" is one of the top ten reasons people relinquish their dogs to shelters.2
An estimated 4 to 6 million cats and dogs are killed in shelters each year. Millions more are abandoned, only to suffer from illness or injury before dying.1

In a study of relinquishment of dogs in 12 U.S. animal shelters, 30% of the surrendered dogs were purebreds.3
The same study indicated that 55% of the surrendered dogs were unaltered.3
It costs U.S. taxpayers an estimated $2 billion each year to round up, house, kill, and dispose of homeless animals.4
Over 56% of dogs and puppies entering shelters are killed, based on reports from over 1,055 facilities across America.5
1 The Humane Society of the United States—Pet Overpopulation Facts (1999)
2 National Council on Pet Population Study and Policy—The Top Ten Reasons for Pet Relinquishment to Shelters in the United States
3 Journal of Applied Animal Welfare Science, 1998, Volume 1, Number 3, p. 213
4 USA Today, June 23, 1998, pg. 1
5 National Council on Pet Population Study and Policy—Shelter Statistics Survey (1997)
• The Top Ten Reasons for Pet
Relinquishment to Shelters
in the United States
1. Moving
2. Landlord issues
3. Cost of pet maintenance
4. No time for pet
5. Inadequate facilities
6. Too many pets in home
7. Pet illness (es)
8. Personal problems
9. Biting
10. No homes for littermates
---

Life & Death of an Untrained Dog
I woke up one morning with my littermates. I saw Mom lying there, so I went over to get some breakfast. Mom was warm and she licked me all over. She loved us so much...