Adoption Showing Schedule
Petco
Little Rock, AR
Saturday December 20th
1:00 PM - 4:00 PM
Click here for directions

---
Resident Care Taker Position

December 6, 2014
DogsOnly is taking applications for a caretaker(s) to reside in a private home and live on-site to provide basic care to the rescues in our program. This requires daily activities of feeding, providing clean water, cleaning yards of waste, medication as needed, some transporting of animals to appointments, etc. Caretaker is responsible for yard care at their residence year round. Yard care in the animal area is provided. Daily chores are not time consuming for some one organized and physically fit and can usually be completed in 30 minutes to 1 hour per day. Rent is $350 per month and is subsidized in exchange for animal care. House is about 1,200 sf with CHCA, energy efficient home with 1 large bedroom, 2 small bedrooms / office sized rooms, large den with fireplace, dining room, sunroom, storage room, completely furnished kitchen with washer and dryer and carport. Caretaker has fenced area for their pets, which is separate from foster dog area. This is a volunteer position and would not work out for some one who travels frequently, goes out of town or is unable to consider the needs of animals. Must be stable, no substance abuse, reasonable person with a good work ethic, able to recognize the needs of our animals and communicate well with us. If you are interested, please send us an email. This is not for everyone and takes a certain level of commitment to work. We will not be giving out the address except to those interested who appear to be a good match. This is to protect the privacy of our location and our rescues. We will be taking applications for as long as needed to find the right match. Caretaker is responsible for their own utilities. We do allow pets, prefer dogs only but may consider other pets for the right person. This is a 7 day a week responsibility and is similar to living on a farm. Please consider this and think about it as moving in for cheap rent will not work out for either side in the long run. We respond to all email inquiries with instructions on how to complete an application for our caretaker housing. If you do not hear from us, please check your Spam folder.
If you are interested in this position, please use our standard Foster Application to apply. Click here to complete the application.
---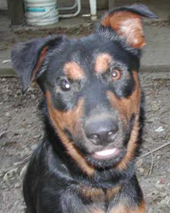 Happy Ever After
The story of Jas
Formally known as Mojo

Perhaps for the first time in his life Mojo happened to be in the right place at the right time. Mojo was hungrily scavenging about some trash cans for food when he was spotted by a DogsOnly volunteer who just happened to be passing by.

It was clear that Mojo had been living like this for some time. He was carefully sniffing each trash can, bag, and box for any sign of a tasty morsel. Unnoticed, Mojo's observer was hoping that he would return to his home, but it soon became clear that Mojo had no home.

Click here to read more about Jas formally known as Mojo.
---
Adoption Showing Schedule
Petco
Little Rock, AR
Saturday December 20th
1:00 PM - 4:00 PM
Click here for directions

---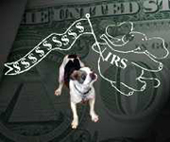 Petting Taxes:
A Proposal for a New Deduction
By Pete Files
Why argue for a tax deduction for pet owners? Simply stated, because our increasingly transient society has made pets a quality-of-life issue. With the decline of the traditional family, siblings and parents often live on opposite ends of the country. Jobs leap from city to city and careers change by necessity in the dynamic economy. Landing a job after college or high school can dislocate a family, and to fill that void people have turned to pets.

Click here to read more
---
Ready to Rescue?
You're in your car, driving down the road. You have a long list of things to accomplish and you are already running late. Suddenly, you see him—a dog! There! By the side of the road! With a sinking feeling, you realize he's alone. You're coming alongside him now. You have only seconds in which to act. What should you do?.

Click here to read more
---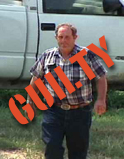 The Nation's Most Notorious USDA-licensed Pet Thief Pleads Guilty
Sentencing to Follow in Largest Animal Abuse Case in U.S. History
On August 30, 2005 C.C. Baird, the nation's largest USDA-licensed Class "B" animal dealer and pet theft ring operator, pleaded guilty to felony charges of conspiracy to launder money in an operation involving the sale of dogs and cats to research laboratories. Baird's criminal case comprised the largest multi-agency (federal, state and local) investigation of animal abuse in U.S. history, which was prompted by Last Chance for Animals 15-year undercover investigation.
Click each picture above to meet three of the dogs rescued from the C.C. Baird place by DogsOnly; Liberty, Justice and Forall.

Click here to read more from LCA
---

Cami's Home Lost To
Hurricane Katrina
09-14-05 Cami had lost her foster home due to the hurricane in Louisiana and was in immediate need of a new foster or adoptive home! After Katrina struck Louisiana, Cami was evacuated to Ponchatoula, Louisiana. We are happy to report that Cami is now safely in a secure foster home.

Rescue had lost contact with Cami's foster family until September 7 because her family had to evacuate the area to escape Hurricane Katrina. Upon return, Cami's foster family discovered they had lost everything and had nowhere to keep Cami. Click the image above or the Go link below to read more.
There are many more companion dogs in urgent need of help due to Hurricane Katrina. If you subscribe to the DogsOnly RSS feed you should watch for Urgent Alerts in your feed to alert you to new postings of victims of Hurricane Katrina.
---
SUPPORT FOR THE DOG COMPANION VICTIMS OF HURRICANE KATRINA
Please help to support the companion dog victims of Hurricane Katrina and make a donation by clicking the PayPal link on the upper left of this page. Specify that your donation is for 'Victims of Katrina'. Most of the recued dogs from Katrina are being sent to Texas and you may also request that your donation specifically go there. Donations made to Texas will be made in the form of food. Every member of DogsOnly is a volunteer, and in keeping with the DogsOnly donation policy, 100% of all donations go to the direct welfare and support of the dogs we rescue. No funds from your donation are withheld for administrative cost or other reason.ns.
THANK YOU.
Questions may be sent by email to Contact@DogsOnly.org
In Memoriam and also in appreciation to those whose generosity and kindness have helped victims of Hurricane Katrina. Click Go below to learn more.

---
Class B-Dealer C.C. Baird
Out of Business
PERMANENTLY!!!
Click to read about the notorious C.C. Baird Martin Creek Kennels and Patsy's "Pat's Pine Tree Farms" after Baird, Patsy Baird, Jeannette Baird, and Patricia Baird, their agents and employees, successors and assigns, directly or through any corporate or other device, were ordered to cease and desist from violating the Animal Welfare Act and the Regulations and Standards and had to pay the largest penalty in history of $250,000 plus another $250,000 if Baird or his family attempt to be involved with dogs/cats

---
StolenPets.com
Click here to read about a national campaign aimed at raising public awareness of a threatening epidemic - pet theft.