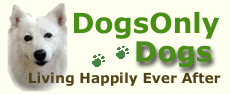 Click Go to view our adopted
DogsOnly Dogs
---
Resident Care Taker Position: December 6th, 2014
DogsOnly is taking applications for a caretaker(s) to reside in a private home and live on-site to provide basic care to the rescues in our program. This requires daily activities of feeding, providing clean water, cleaning yards of waste, medication as needed, some transporting of animals to appointments, etc. Caretaker is responsible for yard care at their residence year round. Yard care in the animal area is provided. Daily chores are not time consuming for some one organized and physically fit and can usually be completed in 30 minutes to 1 hour per day. Rent is $350 per month and is subsidized in exchange for animal care. House is about 1,200 sf with CHCA, energy efficient home with 1 large bedroom, 2 small bedrooms / office sized rooms, large den with fireplace, dining room, sunroom, storage room, completely furnished kitchen with washer and dryer and carport. Caretaker has fenced area for their pets, which is separate from foster dog area. This is a volunteer position and would not work out for some one who travels frequently, goes out of town or is unable to consider the needs of animals. Must be stable, no substance abuse, reasonable person with a good work ethic, able to recognize the needs of our animals and communicate well with us. If you are interested, please send us an email. This is not for everyone and takes a certain level of commitment to work. We will not be giving out the address except to those interested who appear to be a good match. This is to protect the privacy of our location and our rescues. We will be taking applications for as long as needed to find the right match. Caretaker is responsible for their own utilities. We do allow pets, prefer dogs only but may consider other pets for the right person. This is a 7 day a week responsibility and is similar to living on a farm. Please consider this and think about it as moving in for cheap rent will not work out for either side in the long run. We respond to all email inquiries with instructions on how to complete an application for our caretaker housing. If you do not hear from us, please check your Spam folder.
If you are interested in this position, please use our standard Foster Application to apply.
Click here to complete the application.
---
Donations Needed:
DogsOnly and The Anatolian Inn are in need of the following donations. Donated items allows us to spend all of our funds on direct animal care. If you are Spring Cleaning and have any of the following to donate, please let us know and we will gladly pick items up or you can drop off any Saturday at the Petco in Little Rock on Chenal Parkway across from Target and Home Depot.
Items Needed:

Plastic dog houses, igloos
13 gallon trash bags and contractor trash bags
Small enclosed trailor for food storage

All items are directly used by our foster dogs while in our care for their beds, care or cleaning.
---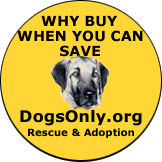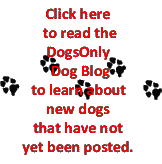 ---
Class B-Dealer C.C. Baird
Out of Business
PERMANENTLY!!!
Click to read about the notorious C.C. Baird Martin Creek Kennels and Patsy's "Pat's Pine Tree Farms" after Baird, Patsy Baird, Jeannette Baird, and Patricia Baird, their agents and employees, successors and assigns, directly or through any corporate or other device, were ordered to cease and desist from violating the Animal Welfare Act and the Regulations and Standards and had to pay the largest penalty in history of $250,000 plus another $250,000 if Baird or his family attempt to be involved with dogs/cats

---
Why is there an adoption fee?

Click here to learn more and find out what you can expect when you adopt from DogsOnly rescue.

---
Adoption Showing Schedule
Petco
Little Rock, AR
Saturday, December 20th
1:00 PM - 4:00 PM
Click here for directions

---
• Feature Companion
Koca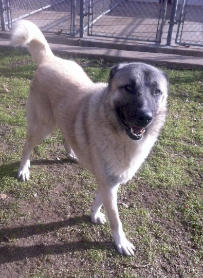 Koca is a handsome male Anatolian Shepherd Dog who was picked up as a stray and landed on death row in a shelter. His estimated date of birth is 11/17/11. Koca is an extremely nice dog. He is super friendly and seems to be ok with other dogs at the kennel. He walks nicely on leash and is a big tail wagger, and loves to be brushed. He was very skinny when he was first brought in, but he has been getting some good food in his belly and will easily weigh over 100Lbs in no time at all. Koca is super playful and fun.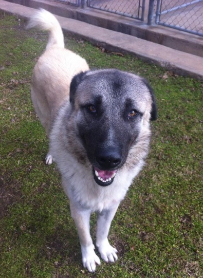 Adoption Showing Schedule
Petco
Little Rock, AR
Saturday, December 20th
1:00 PM - 4:00 PM
Click here for directions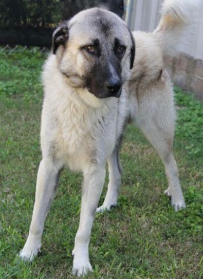 Koca was rescued by The National Anatolian Shepherd Rescue Network (NASRN.org), which is a nationwide volunteer rescue effort. However NASRN does not maintain shelters, but rather relies on regional volunteers and organizations like DogsOnly to help them rescue animals.
PLEASE NOTE: NASRN will always do their best to help with transport within 1,000 miles. Transport is also available from TX, AR, GA and TN to the Northeastern states and Pacific Northwest via professional transport company. Adoption fees apply to all adoptions, please inquire for more info on this particular dog's fee. PLEASE NOTE: ALL ADOPTIONS REQUIRE SECURE FENCING---NO EXCEPTIONS MADE TO THIS POLICY. INVISIBLE FENCING IS DISCOURAGED. THIS DOG IS NOT TRAINED AS A WORKING LIVESTOCK GUARDIAN DOG.
As with all Anatolians, secure fencing is an absolute requirement! Please don't be tempted to adopt on an impulse. Typical of their Anatolian Shepherd heritage, Koca could well live to be 15 years old, so you should take the time to carefully consider the long term commitment, expense, and passion it takes to give him the home he deserves. Bringing a very large dog like Anatolian Shepherd into your home will almost certainly involve a significant financial commitment, and will require some personal sacrifice on your part including things like frequent walks to learn good house training. For that reason we would prefer a family experienced with large breed dogs as well as the patience and time to train and help Koca be the best he can be. Koca will reward you with unbounded love and devotion, but you must be committed and serious about your decision to bring him into your life. Remember, this is an adoption, not a sale, and we're very serious about making sure that both you and Koca are a good match for each other.
If you contact DogsOnly at least 1 day in advance of our scheduled weekly adoption showings, we can make arrangements for you to meet Koca in person at the West Little Rock Petco on Chenal Parkway across from Target and Home Depot. This is in the same strip mall as Old Navy and Shoe Carnival. Our showing hours are from 1-4 every Saturday except major holiday weekends. Remember, if you come to the showing without emailing at least 1 day in advance, Koca may not be there to meet you.
Our available rescues can be met in person at our weekly adoption showing at the West Little Rock Petco on Chenal Parkway, across from Target and Home Depot. This is in the same strip mall as Old Navy and Shoe Carnival. Our showing hours are from 1-4 every Saturday except major holiday weekends.
IMPORTANT - Please call Petco at 501 219 9907 on Saturday between 1:00 and 4:00 PM only or email contact@dogsonly.org BEFORE coming to visit Koca to make sure that he is still available for adoption.
PLEASE NOTE: ALL ADOPTIONS REQUIRE SECURE FENCING.
Email contact to learn more about Koca is contact@dogsonly.org and/or you can complete an online adoption application by clicking the orange colored links at the top or bottom of this page.
Due to time restraints, we are not able to accept phone calls but we always try and answer all emails within 24 hours. All of our young and adult dogs are available for a two week home visit before finalizing the adoption process (local adoptions only). This is to help ensure it is a good match for all involved without making a final commitment. Puppies under the age of six months are not available to go on home visits. All of our rescues are in private homes and not available to be visited outside of showing times. All of our foster homes work with our rescues to ensure they are crate trained and most are also housetrained. None of our foster homes have cats, so we can only make our best guess as to how our rescues would do with cats. We rescue from high kill shelters and once accepted into our program, none of our rescues are euthanized. We provide for all their vet care, socialization and training until an appropriate home can be found. We rely solely on donations and are a 501(c)3 Humane Society.
DogsOnly relies solely on donations and are a 501(c)3 private Humane Society. Our mission is to rescue dogs that most other groups are not interested in due to their size, breed, age, health or other various reasons. This does not mean that there is something wrong with any of our rescued companions, it just means we try to help the dogs that tend to be left behind.
Thank you for your interest in rescue and in saving the life of a dog. Every day in the United States, 11,000 dogs are euthanized.
Why Buy When You Can Save?
Save a Rescued Dog.
If you don't find that special companion you are looking for in the DogsOnly rescue, rehabilitation, and re-home program then please visit Little Rock Animal Services, North Little Rock Animal Services, Sherwood Humane Animal Services, or one of the many other central Arkansas rescue organizations to save a rescued canine companio.

---
Adoption Showing Schedule
Petco
Little Rock, AR
Saturday, December 20th
1:00 PM - 4:00 PM
Click here for directions