:: Adoption News


Other Rescue Groups
Other rescue groups and shelters are listed here so that you may have access to as many of the dogs available for adoption in Arkansas as possible.

About Adopting
Click here to read about what you should expect and how to prepare for adopting a puppy
:: Hot Links

:: Volunteers Needed


Get involved.
DogsOnly Rescue needs your help. There is a special need for foster homes, case workers, and event coordinators. Click here to contact the Volunteer Coordinator or click the link below to read more about the various programs available to volunteers.
:: Don't Buy That Puppy in
the Window.


Ten reasons not to buy your puppy from a pet shop by Cathrine M. Sheeter.

And They Lived Happily Ever After
---
• Featured Friends
Alana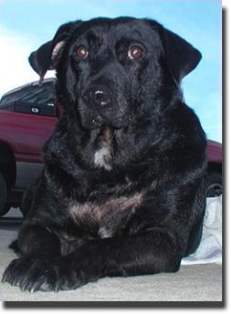 Alana's story reads like a fairy tail, and like all good fairy tails it begins 'a long long time ago...'
Somewhere in Little Rock, five and a half years before Alana came to DogsOnly, Alana was a young pup of 6 weeks wondering the streets with her brothers and sisters. Eventually the litter was captured and taken to a shelter. At least the pups would now receive good food, clean water, and a safe place to sleep. One by one the pups were adopted, and off they went to their new homes, all that is, except Alana.
Perhaps because Alana was in such a pitiful state with patches of hair missing and sores all over her body, she was passed by in favor of other pups that had not been through as much as our girl.
As the years rolled by, visitors came and went from the shelter, but Alana was always the dog left behind. Over time she became institutionalized to the routine and withdrew more and more. The days turned into weeks, the weeks turned into a blur, and people began to whisper that poor Alana would never get adopted.
Then one bright sunny morning in October 2004, a couple of volunteers from DogsOnly were visiting the shelter to pick up tickets for a charity ball; after all, don't all the best fairy tails usually involve a ball. Usually Alana shied away from visitors, but for some unexplained reason Alana at first took an interest, and then a liking to one of the visiting DogsOnly volunteers. Within minutes the idea hatched that if Alana could leave the shelter to come to DogsOnly, perhaps, just perhaps, someone would take Alana into a loving home.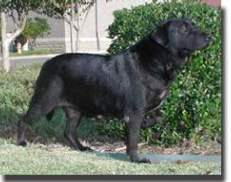 At first Alana wanted nothing to do with the outside world, but thanks to the care and love she received from her Princess Charming she quickly began to discover that the world and all the humans in it are not all as scary as Alana had imagined, and in no time at all Alana was running about with the other dogs in her new foster home, busy wagging her tail at everyone she met.
Alana spent her first Christmas in a real home of her own in 2004 all thanks to a ball, a Princess Charming, and a tenacious will to never give in. Perhaps we should have renamed her Cinderella.