DogsOnly Dogs
Rearing and Ready to GO

Why is there an adoption fee for a homeless dog?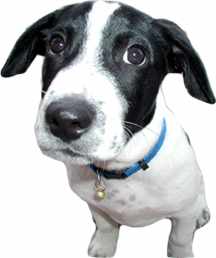 Most dog adoption fees, whether from a rescue organization, or an animal shelter, range from $75.00 to $150.00. Why so much money? Who would pay that kind of money for a dog nobody seems to want anyway? A lot of caring people.
Although the adoption fee is one way we use to subsidize the cost of caring for our rescued DogsOnly dogs, it also serves one other function. The adoption fee will put off anybody who is not willing to spend money on properly caring for his or her companion dog. If you cannot afford a $150.00 adoption fee, then you are unlikely to be able to afford care for your companion when he falls ill or has an accident. Saving the money it takes to adopt a dog is a lot easier than having $500.00 cash in hand when something goes wrong and medical attention is necessary.
If someone won't spend it to bring home a loving companion, then it is more than likely that they won't spend it when it is really needed either. It is a harsh world out there for dogs, and making sure the dogs go to a good, responsible home that will care for them for the rest of their life is the number one concern of most shelter and rescue volunteers.
What happens to your adoption fee?
Not a single penny of your adoption fee is used for administrative costs or overheads. The DogsOnly volunteers and generous supporters of this rescue effort cover the costs of all equipment and administrative needs. Every penny of the fee goes towards our dog's medical expenses. In fact, in almost all cases, the adoption fee falls far short of the actual medical expenses for the dogs. The difference is made up from cash donations, and through the affiliate programs available through this website.
Please consider using the links on this site to shop for your dog's needs. A portion of your purchase is returned to DogsOnly to help in our effort and makes a significant impact on the number of dogs we can rescue.
What a DogsOnly dog can expect through your generous support.
Spay or neuter (from a DogsOnly approved vet only).
If a puppy your DogsOnly companion will receive ALL THREE rounds of shots. Adults will receive their annual shots.
Bordetella vaccination
Corona vaccination.
Heart Worm test and treatment if necessary.
Micro-chipping in case your dogs is ever lost.
Full medical evaluation from a veterinarian.
Frontline flea and tick application.
Rabies vaccination
Deworming, if necessary
Grooming
Discount coupons for pet supplies courtsey of .
Unless otherwise noted all DogsOnly dogs will come into your home with a clean bill of health. Any residual medical issues at the time of adoption will be paid for by DogsOnly, Inc., until they are resolved.
Two free months of pet insurance.
And finally, thanks to caring people who take the time to look into the rescue option, a DogsOnly dog can expect a good home for the rest of his life.