:: Behavior & Training Tips

It's cute when your young pup jumps up to greet you, but it becomes frustrating when your adult 50Lb pooch bounces about the room.
:: Hot Links



Get involved. DogsOnly Rescue needs your help. There is a special need for foster homes, case workers, and event coordinators. Click here to contact the Volunteer Coordinator or click the link below to read more about the various programs available to volunteers.
:: Support

DogsOnly is a 501(c)(3) Non-Profit Organization and the dogs we rescue and re-home need your support. Every member of DogsOnly is a volunteer, so you can be assured that 100% of your donation goes to the welfare and support of the dogs we rescue.
PLEASE CLICK ABOVE TO DONATE AND SUPPORT DOGSONLY DOGS.
THANK YOU
P.O. Box 251412
Little Rock, AR 72225-1412
• Bad to the bone.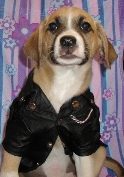 Don't blame your dog when things start getting ugly, it's up to you to be the master and make an effort to do the training. Dogs are smart and they can find a million ways to get into trouble, and unless you make an effort to learn how to train, you can expect to live with a four legged terror.
The following articles are reprinted as a courtesy and with kind permission from PetEducation.com to help you to understand and correct some of your dogs problem behaviors.
---