Boy and his sister were dumped outside the front door of his rescuer and foster early one Saturday morning. They were both little skeletons, and badly in need of immediate care and attention.
Boy is a medium sized German Shepherd mix, and fortunately for him and his sister Girl, their rescuer is a dog lover who didn't waste any time getting them both well taken care of. All Boy needs now is a home where his family has the time and patience to keep working on Boy's training and to show him the care and affection he deserves.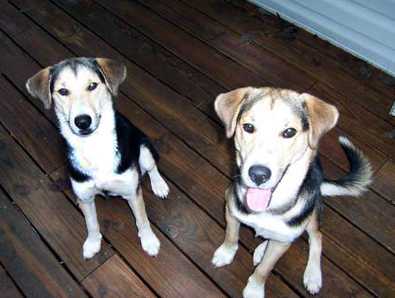 Boy (right) with his sister Girl.
Boy would probably do well in a home where he gets plenty of exercise. He gets along well with other dogs. He loves to swim and pays little attention to a cat in his foster home, but seems interested. He is very affectionate to people and has never met a stranger. He hasn't had an accident in the house in over three weeks but he still needs to be watched very closely to make sure that he continues to do well and doesn't slip up. His new guardians should be aware that Boy is still a puppy, and may need to be supervised in the house to make sure he doesn't chew. He is still relatively young and needs to be reminded what is appropriate to chew on and what is not.
Boy's hobbies include swimming, rough housing with his sister, running full speed behind the four-wheeler, and to sun on the back deck. Although he's a little rough with his sister, he just lays on his back and lets a female Beagle take over the play.
Boy has already been neutered, is up to date on his shots and has been dewormed.
Boy is an independent rescue who may not be available at all of the DogsOnly adoption showings at the Little Rock on , so please be sure to call 501-219-9907 before coming to make sure that he will be there for you to meet. If you would like to know more about Boy you are invited to complete an online adoption application by clicking the orange colored text links at the top or bottom of this page or contact Boy's rescuer and foster directly at s.clark350@comcast.net
If you don't find that special companion you are looking for in the DogsOnly rescue, rehabilitation, and re-home program then please visit Little Rock Animal Services, North Little Rock Animal Services, Sherwood Humane Animal Services, or one of the many other central Arkansas rescue organizations to save a rescued canine companion.